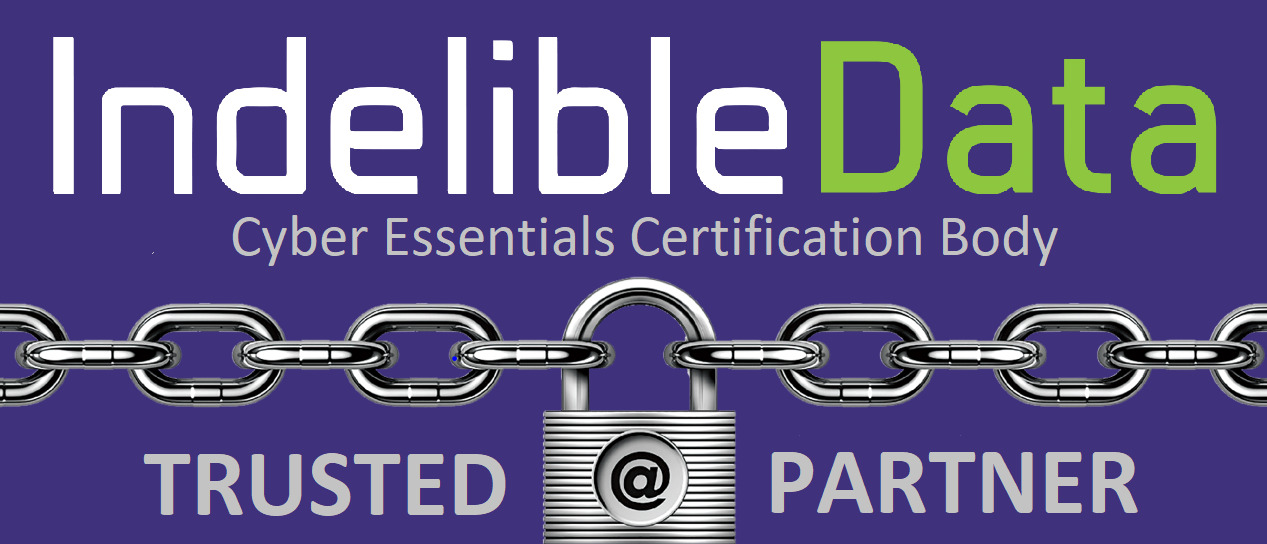 Indelible Data has selected partners who have demonstrated the skills and knowledge required to help companies achieve Cyber Essentials and Cyber Essentials Plus. Some trusted Partners are also ACE Practitioners, which means they have undergone training delivered by QG Management Standards and Indelible Data in basic cyber hygiene techniques and the implementation of controls required by the Cyber Essentials scheme.
10-100 provides a wide ranging portfolio of IT and Cyber Security solutions.
If you are looking for assistance in gaining your Cyber Essentials Certification, 10-100 can highlight and implement any changes necessary to ensure you succeed.

ADM has a team of certified ACE Practitioners who between them have a wide array of cyber security accreditations. ADM is well positioned to help you achieve the Cyber Essentials accreditation and keep your business secure.
Microsoft Gold Partner for Managed IT solutions for SMB. Ace Practitioner providing assistance in completion and submission of Cyber Essentials Basic and Cyber Essentials Plus requirements.
Awareness Software Limited
South Manchester
From the provision of technical support and hardware maintenance to more complex consultancy and development, our experience will ensure you are provided with the correct solution and cyber security advice that works for your business.

Cloud Direct is a Microsoft Azure Expert MSP and Gold Partner. It is also proud to be recognised as an Indelible Data Trusted Partner. We help organisations understand what Cyber Essentials is, what their current compliance level is and help achieve compliance
Barnsley, South Yorkshire 
CRK Consulting Limited offers ISO 9001, ISO 2700, ISO 22301, Cyber Essentials and GDPR consultancy services, working with companies to fulfil the requirements of frameworks and standards
Cyber Security Partners (CSP) are a security consultancy helping clients with a pragmatic approach to information security. CSP has grown quickly and continues to expand resulting in more clients benefiting from qualified, experienced and knowledgeable consultants. CSP provides all things cyber security from Cyber Essentials certification consultancy through to a wide range of information security assistance.
Sheffield, South Yorkshire
Our 14 years of practical experience will help you to achieve Cyber Essentials Basic and Cyber Essentials Plus and more – assurances that will be required in the future marketplace.
Cumbria, Northumberland and South West Scotland
| | | |
| --- | --- | --- |
| Gary Martin | Tel: 01228 585300 | solutions@davidallen-it.co.uk |
We can assess your current business IT infrastructure and ensure that we put secure systems in place to protect your business and its data, and then help to train your staff to make sure they don't become the weakest link when it comes to cyber security.
Questionnaire checks – We ensure your answers are correct before they are submitted. Gap Analysis – Our assessment identifies the strengths and weaknesses of your system. Implementation – We deploy any changes identified in the Gap Analysis taking the hassle away from you. Managed Security Plan – Ongoing security management keeps you secure
The HBP Group provides a wide range of IT and Cyber Security solutions and if you're looking to gain your Cyber Essentials or Cyber Essentials Plus Accreditation then we can carry out all of the work required to get you up to scratch, ready for certification.
.
Holker IT has, in just ten years, become one of the UK's leading suppliers of intelligent, business aligned, IT solutions and services. Solutions that recognises the critical importance of security of services and integrity of data to clients' businesses and brands. Our clients include energy companies, colleges, schools to transport and logistics firms and the legal sector
Our range of security services covers everything from initial consultancy work and auditing, to certification and the latest security software updates. By understanding what your business needs and why, our experts can take care of your entire security portfolio, helping ensure you're never caught off guard.
Cumbria & South West Scotland
When it comes to IT security, there can be a bewildering array of options to understand.
Integrity IT Solutions can help you combine multiple layers of defence in order to prevent malicious attacks on your network.

JJM Networks works with a number of leading security products and vendors. We can help assess and advise on the best security practices for your organisation and assist with implementing any security policies and controls needed to achieve the Cyber Essentials Certification.
We are an IT Consultancy and services company, We offer an IT Security review, Cyber Essentials gap analysis and can guide you to Certification for both Basic and Plus Certifications
Netmatters' specialist team of cyber security experts works with businesses to audit their current cyber security and design a plan to ensure the business meets the Cyber Essentials criteria. We will advise on everything from hacking protection to staff training and work with clients to implement the necessary changes to gain certification.
Not Just Computers – London
We believe in a multi-layered approach to IT Security whether it be a technical, physical or education solutions to be implemented. We are able to provide assistance with all of these and can implement in a way that is appropriate for any size business or budget.
Octavian IT is part of the multi-award winning and highly accredited multi-national Octavian Group. We provide high quality, tailored and outsourced managed IT security services globally.
| | | |
| --- | --- | --- |
| Tony Richardson | Tel: 07967033487 | tony.richardson@octree.co.uk |
Octree provides secure, compliant, hybrid cloud solutions for professional services clients. The company provides its customers with a clear path to transformation through its highly effective solutions and broad portfolio of hybrid cloud, data protection, disaster recovery, security and colocation services.
| | | |
| --- | --- | --- |
| | Tel: 0800 091 3252 | sales@orchard-computers.com |
Orchard Computers advises clients on improving infrastructure, upgrading security and achieving Cyber Essentials and Cyber Essentials Plus. We have many satisfied customers and work with the client on an individual basis.
Information Metrics Ltd t/a PFI Security
PFI Security supports clients with policy documents, Cyber Essentials questionnaire submissions, Nessus configuration, Nessus results analysis and more.
It also assists customers through the Cyber Essentials Plus journey to certification.
By understanding your business and identifying where your vulnerabilities are, whether that's human or technology, we can help build, update and deploy your IT security strategy to ensure business-critical data is protected. We focus on tailoring a multi-layered security solution fit for your needs that can adapt as your business grows, and as the cyber threat landscape changes.
Our fully trained Cyber Essentials specialists will undertake a gap analysis. Reviewing your network and general IT practices against the standards for Cyber Essentials certification. We then work with you to fill the gaps in your cybersecurity processes & policies to help you achieve your Cyber Essentials accreditation.
Working with you, we determine your business security and compliance issues and then design a programme that supports your specific business requirements. By using the next generation of security intelligence technology, we help to reduce risks and better secure your network and applications through seamless technology upgrades.
Ensuring that your data and systems are secure is a top priority. System IT works with a number of different vendors and products to ensure that your data and devices are always secure, and can help assess and advise on any security and policies required to achieve Cyber Essentials Certification.
Think Cloud specialises in best-in-class cloud technologies and cyber-security. We provide a fully managed service to help businesses meet their IT compliance needs.